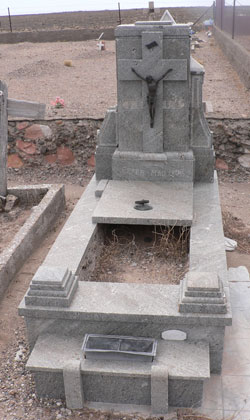 Burial of Peter MacIvor
We were able to identify one "Brit" in this cemetery [see photo]. His name was Peter MacIvor; however, the stone does not have any dates. In nearby Puerto Deseado there was a person of this name who joined the Sociedad Rural in 1922: so, this person was probably a rancher.
Sepultura de Peter Mac Ivor

En este cementerio, identificamos sólo un "británico" [ver foto]. Se llamaba Peter Mac Ivor; la lápida no lleva fechas. No obstante, sabemos que en 1922, un nuevo socio de la Sociedad Rural de Puerto Deseado, distante 120 km, llevaba el mismo nombre. Suponemos que esta persona era probablemente un estanciero.