patbrit.org
The British Presence
in Southern Patagonia
+ + Making a living: British prostitutes in Puerto Deseado
, 1916-1924 + +
+ + Trabajar para vivir: prostitutas británicas en Puerto Deseado + +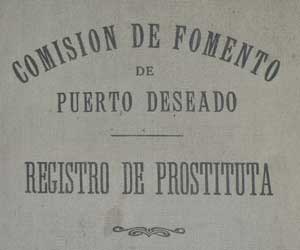 Recognition of female prostitution in society varies with time, place and perceived need. In the early 20th century, Puerto Deseado was a small coastal community, serving a large rural hinterland, with a preponderance of single men (a common situation throughout Southern Patagonia at the time). This gender imbalance called for a pragmatic attitude towards the inevitable demand for sexual services.
Municipal records of the time show that prostitution was regulated by the local authorities, operating within the framework of national legislation: the earliest surviving register dates from 1916.
Each brothel ("casa de tolerancia") had a recognized madam ("regenta"). Each inmate ("pupila") was registered. The individual record contained name, nationality, a short physical description (eye, nose, mouth, skin, hair), age, marital status, length of residence and a passport-style photograph. It is probable that identity booklets were issued and regular medical checkups performed.
---

El nivel de legalidad de la prostitución dentro de la sociedad es variable, según la época, el lugar y la percepción de su necesidad. En las primeras décadas del siglo XX, la ciudad costera de Puerto Deseado, junto con el territorio adyacente, estaba poblada mayoritariamente por hombres solteros (situación común en toda la Patagonia austral en aquellos años). Esta desproporción entre el número de hombres y mujeres requirió una respuesta pragmática a la inevitable demanda por servicios sexuales.
Los archivos municipales de la época demuestran que la prostitución fue regulada por las autoridades locales de Puerto Deseado, quienes operaron dentro del marco de la legislación nacional: el registro más antiguo existente data del año 1916.
Cada prostíbulo ("casa de tolerancia") estaba a cargo de una administradora ("regenta"). Cada prostituta ("pupila") estaba registrada. En la hoja personal se anotaban los siguientes datos: nombre, edad, estado civil, nacionalidad, descripción física (ojos, nariz, boca, color de piel, cabello), años de residencia, más una fotografía estilo pasaporte. Es probable que a todas se les haya dado una libreta de identidad, y hayan recibido control médico cada cierto tiempo.

---
name

/


nombre

born

/


nacida

photo

/


foto

Bell, Elisa [Eliza]
c1889
Brun, Sara [Brown, Sarah?]
c1892
Buchan, Betty
c1886
Foster, Maud
c1891
Source

/

Fuente

: Archivo Histórico Municipal, Puerto Deseado


Thanks

/

Agradecimiento

: Violeta Martínez


Updated

/

Actualizado

: 12-IV-2010