patbrit.org
The British Presence
in Southern Patagonia
+ + Early Ranches: Cristina + +
Photographs of its setting by Keith Patterson, c1930
Estancia Cristina is located on a branch of the North Arm of Lago Argentino, only 6 miles from the Upsala Glacier, one of the largest in the Southern Patagonian Icefield. The earliest recorded exploration of this area was by Hesketh Prichard, in 1901. The Cristina ranch was founded in 1914 by Percival Masters and his wife Jessie Elizabeth. For all practical purposes, the only access is by ship from Puerto Bandera, on the south shore of the lake. The ranch's extreme isolation called for total self-sufficiency. Despite this, the Masters were successful, operating the estancia well into the 2nd half of the 20th century.
This photographic record was made by Keith Patterson of Río Gallegos on a visit to his friend Bert Masters (son of Percival and Jessie) between 1927 and 1932. Images 2-13 have been obtained from large-format black-and-white negatives (30x10 cm = 12x4 inch; 20x10 cm = 8x4 inch): it is not known what camera was used. Overall image quality is poor, perhaps as a result of age and storage conditions: but we believe their historical value warrants this presentation.
Note 1. For ease of visualization, the sequence of panoramic photos taken from the hills surrounding Estancia Cristina (images 5-13) follows the compass clockwise: S => W => N => E.

Note 2. The original images carry no annotation. Since I have not visited this location, topographic features have been identified using modern, small-scale maps. Corrections are welcomed.
[Later material] Additional photographs below

(1) Rowboat approaching viewer; steamer Julius Caesar, built by Masters: at Cristina (?)
---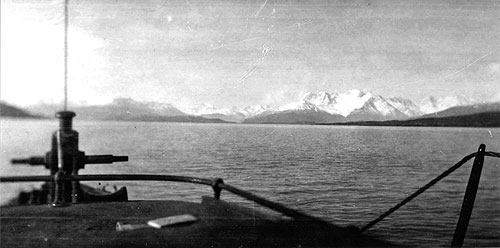 (2) View from deck of steamer
---

(3) Distant snow-capped mountains and Upsala Glacier
---

(4) Small icebergs floating in lake
---
(5) Lake shore looking southward: Cristina Arm(?)
---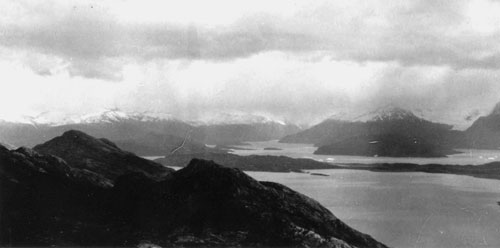 (6) View from Cristina to south-west: distant Spegazzini Channel(?)
---

(7) View from Cristina to westward: distant Spegazzini Channel(?) and Upsala Glacier
---

(8) View from Cristina to westward: distant Upsala and tributary Agassiz(?) Glaciers
(the Upsala has retreated several miles since this photo was taken); Río Caterina at right foreground.
---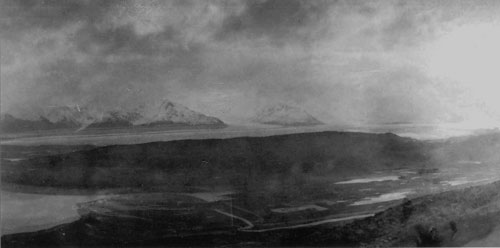 (9) View from Cristina to north-west: Río Caterina and settlement in foreground;
distant Upsala and tributary glaciers
---

(10) View from Cristina to northward: Río Caterina at left foreground; Lago Anita beyond;
distant Upsala Glacier
---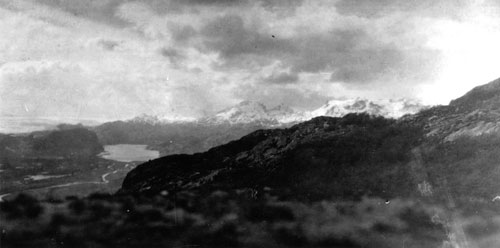 (11) View from Cristina to northward: Río Caterina and Lago Anita
---

(12) View from Cristina to eastward: settlement at right foreground
---

(13) View from Cristina to south-east: settlement in foreground; Cristina Arm at right
---
Additional materials (XII-2011)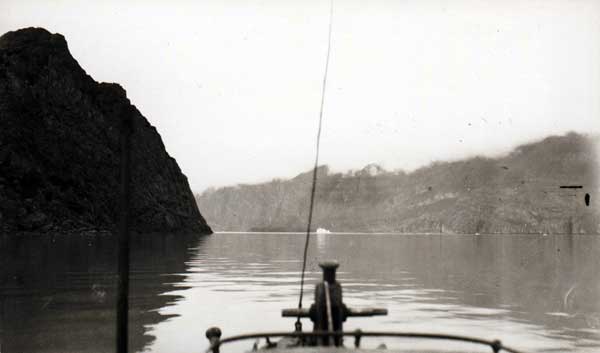 (14) Lago Argentino, approaching Hell Gate
---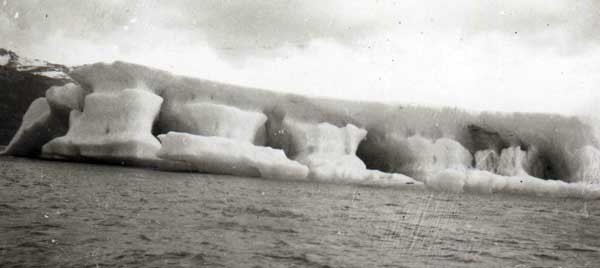 (15) Iceberg on Lago Argentino, calved from Upsala glacier
---

(16) Partial view of snout of Upsala glacier
---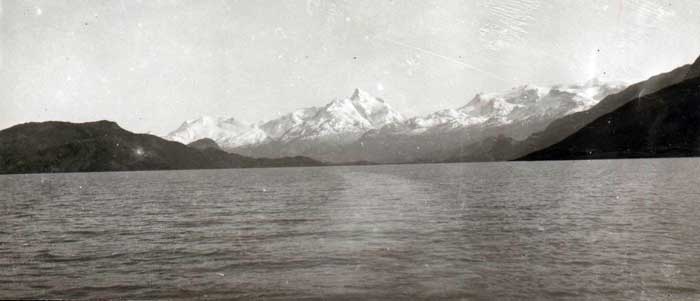 (17) Approaching Estancia Cristina: "Cerro Masters" behind
---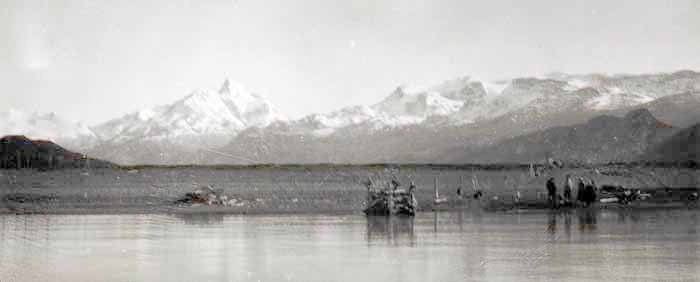 (18) Landing stage at Estancia Cristina
---
Thanks to Liz Patterson (the photographer's daughter), for authorizing this publication (VIII-2010)
Updated: 30-XII-2011