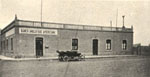 building c1924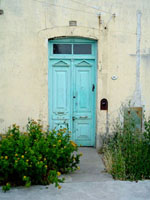 building (detail) 2006
Puerto Santa Cruz was founded in 1878, as the capital of the Santa Cruz Territory, Argentina. Its administrative status was short-lived, being transferred to Río Gallegos in 1887. Nonetheless, the town continued to thrive, both as a port and as a local economic centre. In the early years of the 20th century, it was an important town, complete with hotels, businesses, cinema, skating rink etc.
The local branch of the Banco Anglo Sud Americano was inaugurated in 1912. About 11pm on Sunday, 21st April 1935, a masked attacker murdered the Bank's accountant Donald Sutherland, and his assistant Thomas Veitch Henderson, in their residence. Having located the keys to the safe, the murderer then joined his accomplice, and proceeded to the house of the manager Alberto Mac Quibban [Albert MacQuibban], located next-door to the bank. The manager refused to open the safe door, but his assailants managed to do so, making off with $225,000. Mac Quibban and his wife María Teresa Quijano were both knocked on the head, and left unconscious.
Eduardo Taret, chief of police for the Territory, travelled rapidly to the scene by post-plane, but the criminals were not to be found. No-one suspicious had left the town; and extensive interviews revealed no clue to their identity. Despite 3 months of watching and waiting, there was no unusual behaviour to give-away the guilty secret.
Five months after the tragic event, word came from the capital, Buenos Aires, that a local hotel-keeper, Emilio Lajús, had been spending money conspicuously. The net closed rapidly. Lajús was arrested on October 16, and taken to Río Gallegos for interrogation. His confession came on the 19th: the accomplice was his 15-year old nephew, Alberto Fernández.
The bank closed this branch the same year. Both deceased employees were buried in the local cemetery, where their well-maintained graves can still be seen. Each stone bears the message "Faithful unto death".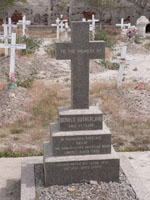 Donald Sutherland
aged 27 years
of Edinburgh, Scotland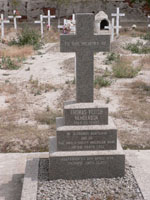 Thomas Veitch Henderson
aged 33 years
of Jedburgh, Scotland