Gold Rush, Tierra del Fuego 1880—1910
"British" Presence + Personal Accounts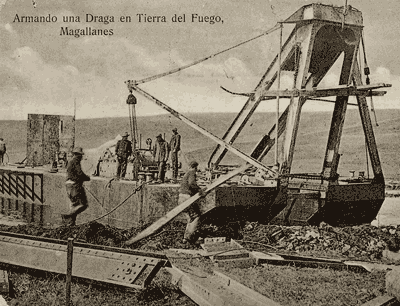 Assembling a gold dredge in Tierra del Fuego

Tierra del Fuego, in common with other gold rush areas, was remote and effectively ungoverned. For this reason, the names of most of the early miners and prospectors have been lost. Although the largest group was Croat, many other nationalities were represented, including New Zealanders. Very few are positively identified in locally published material that I have consulted, so any additional information would be most welcome. Some other candidates of "anglo" surname are included below.

This advice was given by The New York Sun in 1894 to a prospective gold-miner.

Here is a list of some people who sold mining rights in Punta Arenas in 1904.

For a brief account of an unsuccessful mining expedition, see this 1904 article from The New York Tribune.

An anonymous New Zealander working on the "Río Oscar" dredge provides a down-to-earth report on living conditions and labour relations in these 1906 letters.

For a description of working conditions on the gold dredge "Progreso" [installed by the "Compañía de Dragajes del Río Progreso" in 1907 on the Chorrillo Progreso, Cordón Baquedano, near Cerro Sombrero], see this 1908 article from The New Zealand Mines Record.

Region not specified
| | | | |
| --- | --- | --- | --- |
| Bean, John | 1882 | Irish | native of Dublin; died [Punta Arenas?] 4-VI-1918 [per Magellan Times, 6-VI-1918] |
| Davey, James | <1914 | British | "last heard of on the gold diggings in Tierra del Fuego" [per Magellan Times, 21-VIII-1914] |
| Ranson, Franklin | 1897-98 | United States | native of Cleveland, Ohio; returned with $18,000 in gold [per New York Times, 8-XI-1898] |
North Coast (Strait of Magellan)
| | | | |
| --- | --- | --- | --- |
| Bank of Tarapaca & London | 1895 | - | bought gold |
| Bricker, David G | c1907 | United States | mining engineer, advisor to Sutphen |
| Felton, Charles | <1900 | Falklands? | |
| Garnett, William | 1898 | unknown | owned and managed the Mina Nueva |
| Glover, David | <1900 | unknown | |
| Holderman, W | 1903 | unknown | advisor to Sutphen |
| Hughes, A | 1914 | unknown | Río del Oro Dredge [per Magellan Times, 12-XI-1914] |
| Marshall, Robert | >1903 | unknown | engineer, produced technical report |
| Oldfield, Thomas | 1883 | Scottish | held mining concession to 1886 |
| Pritchard, Griffith | <1900 | unknown | |
| Roberts, John D | 1903 | United States | in charge of setting up Sutphen's operations |
| Saunders, Henry | 1885 | Scottish | "one of the more fortunate gold prospectors"; own washing operation; traded food supplies with other diggers in exchange for their gold. (see also Southern Archipelago) |
| Scott, Alfred W | 1882 | British | owned trading house in Punta Arenas |
| Sharp, Charles Hambleton | c1900 | English | engineer, previously in Colorado, USA |
| Smith, A. | 1903 | unknown | advisor to Sutphen |
| Sutphen, Edson | 1903 | United States | investor/owner |
East Coast (Atlantic)
| | | | |
| --- | --- | --- | --- |
| Argentine Tierra del Fuego Exploration Co. Ltd. | 1905 | - | company formed in Buenos Aires |
| Newbery, George | 18?? | unknown | operating near Río Grande |
| Urnwin, Robert | 1892 | unknown | working alluvial sands |
| Welsh Patagonian Gold Fields Syndicate Ltd. | 1905 | - | company formed in Buenos Aires |
Southern Archipelago
| | | | |
| --- | --- | --- | --- |
| Saunders, Henry | 1888 | Scottish | early prospector (see above, North Coast); visited Islas Nueva and Picton on government inspection visit in "El Toro" (Oct 1888) |
New Zealanders on the Goldfields of Tierra del Fuego
Surname, Forename
Location / Claim / Company
Formerly of
(New Zealand)
Remarks
Allen
Booth
Southland
Brand
Kelso
Burton, A
Progreso
Roxburgh
(son of Jabez Burton) crew; left NZ with Wakefield Sep 1907
Callaghan
Progreso
left NZ with Wakefield Sep 1907
Cameron, Archibald D
Sloggett Bay; Río Santa Maria [Useless Bay]
1902
Fache, Ernest William
Río del Oro
Alexandra / Clyde
1907 to Tierra del Fuego; hired by Río Pérez Gold Dredging Company, Argentina
Gunn, W E
Coalcreek
Jeffries
Cromwell
Johnston, Wm
Progreso
left NZ with Wakefield Sep 1907
Lester [Lister?], H
D G Bricker
Alexandra
in charge of dredge
McKersey
Progreso
left NZ with Wakefield Sep 1907
Moffitt [Moffatt?], R W
Río del Oro
Waikaia
Musgrave, James
Río Santa Maria [Useless Bay]
1902
M'Gregor, John
Río del Oro, Río Verde / Juan D Roberts
Dunedin
(formerly, 2 years) dredging engineer, erected 2 dredges; (currently) Otago Iron Foundry
Piper
informant; connection unknown
Richmond, James
Progreso
dredgemaster; left NZ with Wakefield Sep 1907
Robertson, David
Roxburgh
Silk, C J
Río del Oro
1914 [same person as T. Silk?]
Silk, T
Progreso / Loreto (Punta Arenas)
Otago
crew; left NZ with Wakefield Sep 1907; Loreto operation abandoned after 2 months
Stewart, A A
Cía. Río Pérez / Cía. Sutphen
Greymouth / Kumara
engineer specialized in mining dredges; left TdF early 1910
Tough, John
Otago
Troy, George
Río Oscar
Electric No. 1, Cromwell
Wakefield, Arthur Norman
Progreso / Juan D Roberts / Loreto (Punta Arenas)
Lawrence / Tuapeka
dredgemaster; left Lawrence 4 Sep 1907; Progreso closed after 6 months; Loreto abandoned after 2 months
Watson, Edward H
Juan D Roberts / Río del Oro / Slogget Bay / Cía. Río Verde
Alexandra
constructing engineer and superintendent
Werner, John
Cromwell / Lowburn, Otago
4 years in South America; leased a dredge in TdF
Williams, Frederick Harold
Río del Oro
per Magellan Times, 12-XI-1914
---
Background note: The "Grey River Argus" newspaper (published at Greymouth, New Zealand), September 3, 1908 edition, stated "There are about fifty New Zealanders in Tierra del Fuego, mostly connected with the gold-dredging industry". For further information on gold dredging in New Zealand, see "The Speculators' Dream: Gold Dredging in Southern New Zealand", T.J. Hearn and R.P. Hargreaves, Dunedin, 1985; and "A History of Otago", Erik Olssen, Dunedin, 1984.
---
Advice on Going to the Tierra del Fuego Goldfields (1894)
GOING TO TIERRA DEL FUEGO.
The Routes, Cost of Passage, Outfits Needed, and Other Matters of Interest.
The following letter is one of a number of like import received since the publication of the articles on the Cape Horn region that have recently appeared in The Sunday Sun:
To the Editor of the Sun — Sir: I write this letter seeking information in regard to the gold mines of Tierra del Fuego. I read the article in The Sun, and am convinced that the Cape Horn country is the place for an independent young man to go to. I am thinking very seriously of going there, and will start in a couple of months, that is, if I can get some more information. Would like to ask what kind of clothing a man is supposed to wear. Does a man who works the sand on shares furnish his own mining materials,or are they furnished by the company he works on shares with? Of what consists a miner's outfit? I shall be very thankful if you will answer these few questions.
G. W. H., Jr.
Sebastopol., Cal., Oct. 10.
The best way for an American living east of the Rockies to get to Cape Horn is to take one of the steamers that run regularly direct from New York to Buenos Ayres. Norton & Son, 90 Wall street, are the owners of the line. Those living West can go by the Pacific Mail to Panama, where a transfer may be taken to Valparaiso. Thence three lines of steamers run through the Straits of Magellan, stopping at Punta Arenas or Sandy Point, the now celebrated Cape Horn metropolis.
At Buenos Ayres these same lines of steamers are found running through the straits, together with a line of Argentine naval transports that once in three weeks start for trips along the Patagonia coast and entirely around the island of Tierra del Fuego, stopping at Paramo, the only permanent placer camp, with a call also at St. John's Harbor on Staten land. The fare first class, from New York to Buenos Ayres is $160, and from Buenos Ayres to Punta Arenas $55. From Buenos Ayres to Paramo the price is about the same. At Punta Arenas a miner can find transportation to the mining region, but he may have to wait a month or two for a boat load of supplies to start.
A suit of light clothing with underwear is needed for the journey across the torrid zone. It is a journey of about thirty days from New York to Buenos Ayres, of which the greater part is sure to be in summer heat. From San Francisco the time required is much longer. Clothing worn in the Cape Horn region is like that worn in the northern part of the United States in November. Hot weather is unknown in Tierra del Fuego, and so, too, is the extreme cold weather, say of Maine and Dakota. Capt. Cook, the explorer, had two of his men frozen to death down on the south side of Tierra del Fuego. It is true, but the victims must have had a very small stock of vitality.
There is but one company in Tierra del Fuego that employs men regularly, and that is the one at Paramo, on San Sebastian Bay. However, capitalists at Punta Arenas fit out expeditions in a small way at intervals to work the gravel in other parts of Tierra del Fuego. In all cases the company furnishes the tools. No American need carry tools of any kind from home. He can buy everything he wants at lower prices in Punta Arenas. Even the Winchester rifle, which every prospector In Tierra del Fuego must have, can be purchased for $5 less than the price in New York.
Tho outfit of a Cape Horn prospector is exactly like that of a Rocky Mountain prospector, except in the means of transportation. Instead of the patient burro, he takes the wabbly catboat or sloop. This he ballasts with bacon, beans, meal, and water in kegs, with a cooking outfit to suit, and picks, shovels, and pans. A small assayer's outfit, including a blow pipe, crucibles, acids, litharge, &c., would come handy, and these can all be carried, because there is plenty of room for no end of things in even a 25-foot catboat: room enough to make the burro packer open his eyes with astonishment.
No prospector sails away alone, however. At least two men should be found in every crew, and both should understand handling a catboat when the wind blows from all directions at once: when the boat is in the vortex of a whirling squall fit to strip the coat from a man's back. The gold of Tierra del Fuego is often found in tempting quantities, but it lies beyond waters only a trifle less dangerous to human life than those of the river Styx.
The cost of living in the best hotel in Punta Arenas does not exceed $2 a day in gold. Of course, with good beef at 5 cents a pound and other food proportionately cheap, a miner can camp out at a very small cost per day; and there are a-plenty of good places in which to camp while waiting for a chance of transportation to the diggings.
But we must warn those who think of going to Tierra del Fuego that it is, except on the southern coast, the home of fierce Indians. The Onas of of the prairies eat as well as kill all the white men they get, while the Aluculoofs are but little better. It is a land, too, where no white man goes for his health: they are all out for that dust, and it's every man for himself. There are neither snakes nor venomous insects to fear, and the climate is perfectly healthy, but clouds of mosquitoes and other clouds of driving sand worry and annoy. It is no place for the sluggard or the faint of heart. Even the average man should not go. But if G. W, H., Jr., is young and sturdy, clear-eyed and clear-headed, and if he enjoys the conflict with rude nature and ruder men, and, further, if he can afford to lose his time in case he fails to strike it rich, let him go ahead. It is an adventure that will, at worst, add to the good qualities he already possesses.
Ref. "New York Sun" (newspaper), October 29, 1894
Nova Scotians Lived on Shellfish in Terra del Fuego (1904)
San Francisco, Jan. 17 [by telegraph] — On the German steamer Mera, which arrived to-day from southern ports, were M. McManus and C. Thompson, of Halifax, N. S., returning from a search for treasure in Terra del Fuego. They passed through exciting experiences, but return without treasure.
With eight companions, they sailed from Nova Scotia on March 17 last for Terra del Fuego in a small schooner to look for treasure in large quantities which Captain McLeod, of the schooner, said was to be found there. The schooner was five months in reaching the island and in a storm one of the party Ashley Cooper, was washed overboard and drowned. The vessel finally reached False Cove, Terra del Fuego, but went aground in trying to land. Then McManus and Thompson quarrelled with the others, and, taking their belongings, set out with Indians on an expedition into the interior. For several weeks, the two young men lived on shellfish only, and endured great hardships while tramping over the country looking for signs of gold. They had to take turns standing guard at night to prevent being murdered by the natives.
On striking the coast again they learned that their companions had got the vessel off the beach and gone to some other place. They then procured a small canoe and made a voyage of 125 miles by sea, almost to Cape Horn, in a vain search for treasure that Captain McLeod had said existed there. From this hunt they returned to the Straits of Magellan, and at Punta Arenas took passage on the Mera for this city.
Ref: "New York Tribune" (newspaper), 18 January 1904
Letters from a New Zealander on the Río Oscar dredge (1906)
October l0th.
One night I was lucky enough to slip off a plank into the river; it was bitterly cold, and I put in a bad week with my teeth. On Sunday evening T____ was in our room and suggested that as the dredge would be idle for a few days I should go over to Punta Arenas, and get my teeth out. He arranged with a dago for a horse, and charged it to the company's account, as he said it was a case of sickness. I was to have a guide and leave at 4 a.m. on Monday. Soon after three I was up, and stirred up my man, but it was the usual 'mas tarde' (later), and it was 5.30 before we started. I dropped the guide at the Mina Nueva, and got on all right for some miles, but after crossing the Rio Verde, the snow got too deep for the horse to carry me, so I got off and dragged her along, and tried to find the road, which was, of course, covered. After wandering about for an hour, I gave it up and turned back to try and make the 'Sutphen', but seeing the 'Verde' camp below me, I struggled down to it. It was close on one o'clock when I arrived. They gave me a feed, and told me no one had got out by this road this season. As it happened they had a spare guide, and they sent him on with me. It was close on 5 p.m. when we got to Porvenir. It was Wednesday before the boat crossed, and I persuaded E____ to cross with me. We started off to look for a dentist. Of course, there is no gas in this country, so we bargained for cocaine. The first man we went to started at 20 dollars (25s) a tooth, and when we objected, said he might do them for 15 dollars if they were easy, and out we went. He sent his boy after us, and offered to do it for 10 dollars. The next place was better, and I got them out for 5 dollars apiece. I was up in ____'s office, and he told me that eight winchmen and four dredgemasters were on their way from New Zealand, and should land here towards the end of November. On Sunday night we crossed (to Porvenir), and on Monday I started for the 'Oscar'. It was 8 p.m. when I arrived there, and I was pretty well done.
Rio Oscar, October 28th.
Since I returned from Punta Arenas we have been waiting for coal. We expect it on Wednesday, and I shall be very glad when we are working shifts again. T____ went over to Punta Arenas after I returned, and came back two days ago. I fancy from what he says there is going to be trouble over our overtime and Sunday work. ____ should be out here this week. Our agreement is under English law, and if he wants us to work on Sundays he will have to pay us. ____ has imported a lot of Chilenos to work on the roads; also Italian rivetters, for 'next door to nothing'. The Italians were sent out to work on the ____ and ____ dredges, and have, I hear, all gone out on strike. Then, ____, manager of the ____, brought down a mob of men from Buenos Ayres – engineers at 100 dollars a month, and other men down to 50 dollars. When they arrived on the claim, I hear, the men who were there from last year got out their guns and chased the new arrivals back to Port. How it will end I don't know. In a fortnight our nine months will be up, and if ____ does not come to terms I shall send in my three months' notice, though I should like to stay till May. The weather has been good on the whole lately, and I suppose from now on we should get a little summer.
Rio Oscar, November 11th.
Since last writing the weather has been awful – south­west gales with showers of rain and snow. They tell us it is hot in summer, but I don't think there is any in this country. Last Sunday F____ and I rode over to the 'Oro' dredge, to see our three men. One only wants to ride over this country to know what desolation is. After leaving the house, the track goes up a hill, then across a swamp, and then over a shingly flat on up to the top of an old volcano. Just below this runs the Rio del Oro, and beyond that lie the Heights of Boqueron, and nothing but hills, all the same grey green colour, and not a tree to be seen. The only signs of life are a few miners' tents, an occasional herd of guanacos, and flocks of geese. We found our men at the dredge, the only idle ones in a big mob, as they refused to work on Sunday unless they got double pay for it. We are having a great time among the goose eggs, and very good eating they are. This morning two of us were out after guanacos, and without looking found five (goose) nests, four with six eggs each, and the fifth seven. I hear there are tramps running from Valparaiso to Newcastle, New South Wales, and will most likely come home that way. The chances are that I shall leave here in February. Of course till the end of our term our old company are guaranteeing our money, but after that ____ may turn round on us. I hope he will not, as I should like to stop out this season.
Ref. "Press" (New Zealand newspaper), 4 March 1907
"New Zealand Dredgemen at Tierra del Fuego" (1908)
News has been received in Lawrence, Otago, that Mr Norman Wakefield, who accepted an appointment a few months ago as a dredgemaster in Tierra del Fuego, has reached his new sphere of labour, and is in charge of the dredge "Progresso" [sic]. The men (chiefly foreigners) who were intrusted with the erection of the dredge were not equal to their task, and could not get the machinery to run. Mr Wakefield, with the help of two of his crew (Messrs. Burton and Silk, Otago men, who went over with him under engagement), set to work, pulled down the greater part of the machinery, re-erected it, and soon had everything going properly. Up to the time of writing Mr Wakefield had not an opportunity of prospecting the claim he is in charge of, but as the gravel showed freely he was in hopes it would turn out all right. Coal, landed at the dredge, cost about £.6 per ton, and it was estimated that it would take about 35 oz. of gold per week to run the dredge, the expenses being so heavy. The nearest dredge at work is about twenty miles away. There are six dredges on the field, and it is understood they were all doing well. The "Progresso" dredge's claim is well supplied with water, a snow-fed mountain-stream, carrying about fifteen heads, passing through it. On one part of the claim there is an immense peat-bog and the company had a number of men at work there cutting out peat for dredge-fuel. There was no bush or scrub in the neighbourhood, and the country, which is somewhat mountainous, was very dried-up-looking, with a cold climate, clear and bracing. There was no mist or fog, and very little rain, there being only five wet days during the previous year. There is plenty of wind in the daytime during the summer months, the nights being calm, and in the winter-time the frosts are very severe and hard. Mr. Wakefield was well satisfied with his quarters, and had the feeling that the claim he was in charge of would turn out to be a good one, with a very long life.
Ref: The New Zealand Mines Record, 16 March 1908
Thanks:
(1) Nicholas Twohill, for drawing my attention to the National Library of New Zealand's "Papers Past" website, and supplying information (IV/VI/XI-2009)
(2) Ian Logan, for providing the news link and information on E. W. Fache (VI-2015)
Additional sources:
1. "La Minería Aurífera en la Región Austral Americana (1869-1950)", Mateo Martinic Beros, Historia (Santiago de Chile) Vol. 36, 2003
2. "Memoria de la Rejión Central de las Tierra Magallánicas", Alejandro Bertrand, Santiago, 1886
Last updated: 26-VI-2015