Edson Webster Sutphen (1861-1950)
when Patagonia was young and anything was possible ...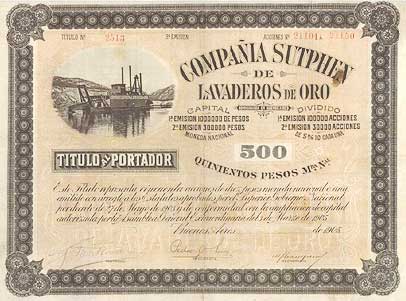 Compañía Sutphen stock certificate, Argentina, 1905 -
company formed to dredge for gold in Tierra del Fuego
"Gold Rush" - The words carry an air of romance, of fortunes won and lost in far-off parts of the globe. The most memorable figure in the Tierra del Fuego "rush" was Julius Popper; an adventurer and complex personality, he made a name for himself in the 1880s working the Atlantic beach deposits of El Páramo. That distant, almost mythical land attracted other larger-than-life characters, who shared his same spirit of "get-up-and-go": Edson Sutphen was one of these. [see 1906 newspaper article]
Caution and Disclaimer: This article has been assembled rapidly from a variety of sources freely available on the Internet, including genealogy databases, books, reports and contemporary newspapers. It is a first attempt to revive the memory of a prominent player in the region's early development. There are gaps to be filled, and some facts need to be independently verified. Additions and corrections will be gratefully accepted. [Feb-2012]
Preamble
In analyzing a person's adult life, it can be useful to study their early, formative years. This seems particularly relevant in the case of Edson Sutphen. Although he had a middle-class American upbringing, his extended family included men and women prominent in medicine, finance, commerce and public affairs. Moreover, his given name (Edson) was a permanent reminder of several of those high-achieving, high-principled relatives. Their example may have encouraged him to set high expectations for himself. Additionally, their ties to the circles of power in Washington DC may have helped him later to develop business contacts.
Family Background and Childhood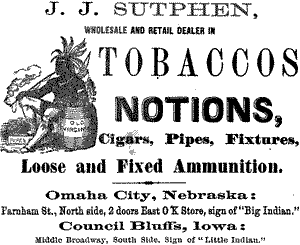 Advertisement by J J Sutphen (Edson's father),
Omaha, Nebraska, 1866
Edson Webster Sutphen was born on 9th August 1861 in Cleveland, Ohio. His father Josephus J (J J) Sutphen, born in Toledo, Ohio, became a tobacco, cigar and fire-arms dealer in Nebraska Territory; his grandfather, Josephus V. D. Sutphen, had been a physician and delegate to the 1835 Michigan State constitutional convention. His mother was Ellen Webster, born in Ohio, daughter of Elemuel Webster, farmer.
Edson's aunt Susan Ann Edson graduated in homeopathy at Cleveland, Ohio. Moving to Washington DC, she became a prominent physician and member of the women's suffrage movement. During the Civil War, she and her sister Sarah worked as volunteer nurses. Sarah's son John Joy Edson (born Underhill) qualified as a lawyer and rose to prominence as a bank president in Washington DC and director of the US Chamber of Commerce.
Edson attended school in Omaha, Nebraska. In 1876, the family moved to Washington DC, residing with his mother's half-sister Dr. Susan Edson. Here his father established a real-estate and rental business.
United States Navy
At age 16, Edson enlisted on the U.S.S. "Saratoga" in Boston, Massachusetts, committing himself to serve in the U.S. Navy until age 21. By November of the following year he was a cadet at the Naval Academy in Annapolis, Maryland, completing his studies in the graduating class of 1882, with the rank of Cadet Midshipman.
It was in 1887, aboard the U.S. gunboat "Alliance", that he first made acquaintance with the islands and channels of the archipelago called Tierra del Fuego. In 1888 Edson was on board the warship "Lancaster" with the rank of Ensign, and in 1890 he was assigned to the training ship "New Hampshire".
Argentina: Business and Marriage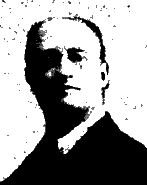 Edson W. Sutphen, c1906
After 12 years of service, Lieutenant Edson W. Sutphen resigned from the U. S. Navy to pursue entrepreneurial interests in Argentina. In 1889, his company proposed constructing and operating a railroad in Buenos Aires province. At some point, he developed a business relationship with the brothers William and George Scranton Henry, officers of the Barber Asphalt Paving Company of New York City. In 1896, this company laid the first asphalt pavements in Buenos Aires: this contract was a financial success for Edson also. Anecdotally, he was said to have brought the first motor car to the city in 1898.
In 1889, Edson met the Maryland-born Marie Madeline Elizabeth D'Arcy in Montevideo, Uruguay. They were married there, and a son Webster Judd Sutphen was born in 1891. A second marriage ceremony was conducted in Hoboken, New Jersey in 1896.
Gold in Tierra del Fuego
At some time around the turn of the century, /1/ Edson Sutphen formed his plan to apply mechanized mining methods to the placer (alluvial) gold deposits of north-western Tierra del Fuego. Steam-powered bucket-dredge technology had proved itself in New Zealand, and had been exported to the Alaska and Yukon goldfields; South America's turn would be next. After due exploration, Sutphen's agents staked around 140 mining claims with the Chilean government. In 1903 the "Compañía Sutphen de Lavaderos de Oro de Tierra del Fuego" was formed in Buenos Aires, with William Henry as general manager (accidentally drowned off Punta Arenas in 1904).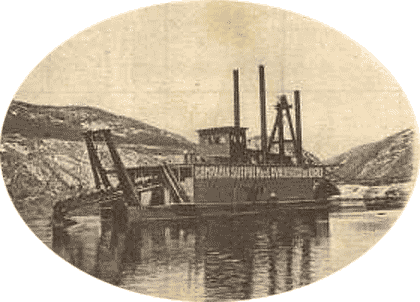 Sutphen bucket-dredge in Tierra del Fuego
(illustration from stock certificate)
Once operating permits were issued, the heavy equipment was shipped to Porvenir, then transported 40km overland by arduous means to the Río del Oro. Here the floating dredge was assembled, the river bottom was flooded to form a pond [see illustration], and production began in January 1905: initial yields were good. With the proceeds of a second share issue that year, Sutphen replaced the first dredge with an even larger one, capable of excavating to a depth of 40 feet; and brought three more dredges into operation by early 1908. Meanwhile, in March 1907, "The Sutphen Gold Dredging Company" was launched in New York, with plans to operate on land adjacent to that worked by the Argentine company.
All this activity could hardly have gone unnoticed, and "gold rush" fever was soon underway again, with Punta Arenas as its hub. Comparisons were drawn with San Francisco and the "49-ers". In short order, over twenty companies were formed, some using dredges (a total of twelve were put into operation), others using hydraulic pistons or steam shovels. Amidst all this haste, there were many investors but few experienced engineers: speculation was commonplace, and fraud its sometime companion.
Divorce and remarriage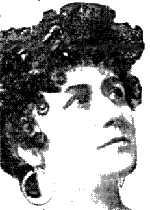 Olive Fremstad, c1908
Edson Sutphen's 2nd wife,
in the role of Carmen
Sutphen travelled widely between South America, the United States, Britain and Continental Europe. Now there were gold washings in Chile, a metallurgy company in Argentina, an automobile import business in New York, financial partners and a residence in London, his son at a prestigious boarding school in Surrey, and equipment suppliers in Holland and Germany. Business was booming, but his marriage was failing, and the divorce decree was issued in New York in April 1906.
Edson remarried immediately in Salt Lake City, Utah, to the well-known opera-singer Olive Fremstad, 10 years younger than himself. Caught days later in the Great San Francisco Earthquake, the couple took their honeymoon in France. They continued to travel extensively, accommodating Olive's concert schedule. An anecdote from Paris in August 1908 tells how Edson brought $5,000 worth of gold nuggets from Tierra del Fuego to show his wife, before resuming his journey to Vienna.
Bust and divorce (again)
The good times were short-lived, because the Tierra del Fuego gold rush did not meet investors' expectations. By the end of 1908, most operations had ceased, with only the Sutphen and Lennox companies still active. Predictably perhaps, Edson's marriage fell on hard times also, now that Olive had to support him from her own resources. The divorce decree followed in 1911.
Still in business
That is more or less the end of the story as far as Edson Sutphen's relationship with Tierra del Fuego is concerned. But his business activities did not end there, and he continued to travel extensively. In 1910 there was talk of winning an Argentine government concession for an electric railroad between Buenos Aires and La Plata; and the following year he was reported to be working with a London consortium to build and operate the first subway in Buenos Aires.
Even in his 70's, Edson was as daring as ever in his undertakings. In 1932 he represented a British syndicate negotiating with the financially-pressed government of Newfoundland for a 99-year lease on the entire Territory of Labrador, a land area almost as large as the British Isles, with an option on its sovereignty. Although a memorandum of agreement was signed, the deal never materialized.
Final years
In 1920 Edson Sutphen was living in Philadelphia, Pennsylvania with his third wife Elisabeth Eklund, (Norwegian/Swedish by birth and 25 years his junior), whom he had married in Baltimore in 1912. In 1930 the couple were living in Manhattan, New York. It's possible that their final years were spent in the small New Jersey town of Cranbury (close to Princeton), where Edson's widowed sister Hattie Symmes had lived since her marriage to a country doctor in 1882. Hattie died in 1948, Edson died in 1950, and Elisabeth died in a New York City nursing home in 1974; all three are buried in Cranbury, alongside Edson's parents.
---
/1/ Coincidentally, there is an earlier "Sutphen" involvement in alluvial gold workings. In 1897, John E Sutphen, a lumber merchant of Albany, New York State, applied successfully for a US patent on a machine to amalgamate gold ores. This so-called "Sutphen process" was used in his mining and milling plants at Sacandaga Lake and Glens Falls. Much later, a grandson of Edson appears to have lived in Glens Falls. To date, however, no genealogical or business connection has been proven between the two families. [Feb-2012]
Principal sources:
1. US Library of Congress digital newspaper archives
2. LDS Family Search website
3. Ancestry (dot) com website
4. "Placers of Tierra del Fuego", S. H. Loram, published in "Mining and Scientific Press" Vol. 99, San Francisco, July 1909
5. "La Minería Aurífera en la Región Austral Americana (1869-1950)", Mateo Martinic Beros, Historia (Santiago de Chile) Vol. 36, 2003
Illustrations:
a. Stock certificate: "Compañía Sutphen de Lavaderos de Oro de Tierra del Fuego", 2nd issue, authorized March 1905, Buenos Aires, Argentina; image courtesy of Dick Hanscom
b. Tobacco advertisement: "Collins' Omaha Directory", Charles Collins, June 1866, preceding p. 1
c. Photo of Edson Sutphen (detail): "The San Francisco Call" newspaper, 4 November 1906, p. 2
d. Floating dredge: enlargement of upper-left portion of stock certificate
e. Photo of Olive Fremstad: "The Pittsburg Press" [sic] newspaper, 14 March 1908, p. 4
Last updated: 15-XII-2015