patbrit.org
The British Presence
in Southern Patagonia
+ + Personal Names: a cross-cultural primer + +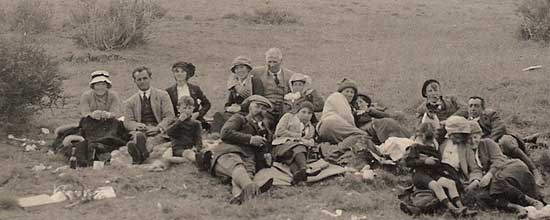 Knowing the conventions of the emigrant's host country helps to understand the records.
Double Surnames
The characteristic modern Spanish convention for personal names is different from the British usage. Normally, a child acquires the surnames of both father and mother for life. The father's surname is dominant, however, and is the one passed on to the subsequent generation.
In the following imaginary example, if we meet a Paulina Espinoza Rojas, we immediately know that her father is an Espinoza and her mother is a Rojas. Her legal papers will almost always show both names. However, in more casual contexts, she may be addressed as:
Paulina Espinoza R.; or, simply known as
Paulina Espinoza -- showing the priority assigned to the paternal line.
By the way, in older records, her name may appear as
Paulina Espinoza y Rojas; or
Paulina Espinoza i Rojas.
Contrast this with the British practice of using only one surname (normally the father's). Second surnames (if used) appear as middle names: sometimes the mother's, sometimes not. A real-world example shows how easily mistakes can occur:
Robert Dickson MacDonald was born in Scotland in 1882, son of John Tarrel MacDonald and Jessie Dickson.



After he emigrated to Chile, his legal name was recorded as Roberto Mac Donald Dickson (correctly, by local conventions). But, in the process, his middle name (Dickson) "disappeared". Properly, he should have been called Roberto Dickson Mac Donald Dickson.
More about Women's Names
As explained above, a person's two surnames are his/hers for life. Major life events (marriage, death) are recorded with the full legal name. In the example above, Paulina Espinoza Rojas literally goes to her grave with the same name as when she entered the world, regardless of marital status. This convention was applied to British immigrant women in Patagonia also.
To give another imaginary example, Jean MacDonald, daughter of Angus MacDonald and Morag Campbell, would be buried in Patagonia as Jean MacDonald Campbell.
Two notes on social usage that reflect a married woman's subordinate role in society:--
(1) If our imaginary immigrant was married to Alexander Cunningham, the newspapers would probably report her as:
Señora Jean M. de Cunningham, or
Señora Jean de Cunningham; or, simply
Señora de Cunningham.
(2) If, later, her husband dies, she would then become:
Sra. Jean MacDonald viuda de Cunningham; or
Sra. Jean M. viuda de Cunningham; or
Sra. Jean MacDonald v. de C.
Contrast this with the modern American trend for women not only to adopt their husband's surname at time of marriage, but also to make their birth surname into a middle name. Name sequence carries different meanings in different societies and at different periods: at times culturally formalized, at others simply eclectic.
Transcription Changes
The "PatBrit" databases are taken from a variety of sources: public records (in Spanish), church registers (in English), newspapers and journals (in both languages) etc. One would expect the unfamiliar names of British settlers to have suffered some "distortion" when written in the Spanish-language context (e.g. writing the name the way it sounds to hispanic ears). This does indeed occur; but not as frequently as one might have expected.
Translation
There has been a widespread "hispanicization" of foreign forenames. It was commonplace to substitute the Spanish words (when an equivalent exists): they are often very similar in spelling, if not always in sound. Also, it has been said that civil registration officials formalized this practice by using the hispanic form of names when registering the birth of immigrant children. Surnames are less often translated: one such example is Williams, which might become "Guillermos" or "Guillermo".
Other Mutations
Two interesting variations have occurred with the Scottish "Mac..." prefixes. Sometimes these surnames are hyphenated (Mac-Lean); at other times, they are divided (Mac Lean). However, the ambiguity of "Mac" and "Mc" means that some surnames were written with both prefixes (MacLean and McLean): take care when running database queries.
Common Forenames
MALES
(omitting those cases where Spanish just adds an accent, or a final "o")

Alexander
Alejandro
Edward
Eduardo
James
Santiago, Diego, Jaime
Patrick
Patricio
Stephen
Esteban
Toby
Tobías
Andrew
Andrés
Frederick
Federico
John
Juan
Paul
Pablo
Theodore
Teodoro
William
Guillermo
Arthur
Arturo
George
Jorge
Joseph
José
Peter
Pedro
Thomas
Tomás
Charles
Carlos
Henry
Enrique
Lawrence
Lorenzo
Richard
Ricardo
Christopher
Cristóbal
Hugh
Hugo
Michael
Miguel
Roderick
Rodrigo
FEMALES

Agnes
Inés
Catherine
Catalina
Emily
Emilia
Jane/Jean/Joan
Juana
Margaret
Margarita
Mary Ann
Mariana
Alice
Alicia
Dorothy
Dorotea
Helen
Elena
Louise
Luisa
Mary
María
Sophia
Sofía
Ann
Ana
Elizabeth
Isabel
Last update: 22-II-2005