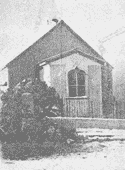 As early as 1850, British missionaries, based in the Falkland Islands (Islas Malvinas) began to make contact with the Yahgan people of the southern channels of Tierra del Fuego. Mission stations were established, in an effort to educate and convert these "canoe people". But such was the culture shock, and so devastating the "white man's" diseases, that few Yahgans remained by the end of the century.
During this period Punta Arenas, on the north shore of the Strait of Magellan, developed from a penal colony into a thriving town with a large non-Chilean population, many of them British. St. James' Church was founded in 1895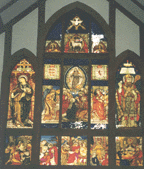 by the Rev. John Williams /see
Appendix
, below/, who spent many years as a missionary to the Yahgans. The present building, close to the city centre on Calle Waldo Seguel (same block as the
British School
), opened its doors in 1899. While Punta Arenas thrived in the first decades of the 20th century, the British community grew in economic strength, and enlargements were made in 1929. At present, the interior is simply furnished with wooden pews, altar and several cheerful stained-glass windows.
Falling membership during the 1930-40's left the church without a resident chaplain for 40 years. Since 1993, a Chilean-born Anglican minister has been based in Punta Arenas, and the Chilean congregation is thriving. Nowadays, there are few British-born people left in Magallanes: but the church still serves families of British descent, and English-language services are held regularly.
EL REVERENDO OBISPO STIRLING a "El Magallanes"

Punta Arenas, October 31, 1895

To the Editor of "The Magallanes"

Dear Sir:

I shall esteem it a great favour if you can kindly grant space in your valuable paper for the following few lines which I address principally to my countrymen and english-speaking co-religionists.

It has long seemed to me desirable that there should be a stated Minister of the Church of England to attend to the religious and educational wants of all those for whom in their own language, and in accordance with their religious convictions, no provision has hitherto been made in these parts.

I am now happy to be able to say that by the cooperation of residents in Punta Arenas and by the generous assistance of the Directors of the S. American Mission in London, I have seen my way to commence what I trust may prove to be a permanent arrangement for the ministries of our Church in the District extending from Punta Arenas to the Rio Gallegos.

The Rev John Williams who has been ordained by [...?], served under the Lord Bishop of Manchester, has been appointed by me to visit the camp and to inaugurate the work referred to.

He will, I trust, meet with a welcome everywhere [and] commend himself, and the claims of his mission, to all by his genial character and diligent ministrations.

It will give me unfeigned satisfaction if this attempt to meet their religious and educational wants prove successful; but it can only be developed and turned to good account by the cordial cooperation of all whom I now address.

Thanking you in anticipation for your courtesy in granting this letter the hospitality of your esteemed paper.

I am, Dear Sir,
Yours faithfully
Waite H. Stirling, Bishop