patbrit.org
The British Presence
in Southern Patagonia
Memorial Ceremony for Thomas Saunders, Otway Station, 20 October 1929
Wreath-laying by First Fire Brigade Company of Punta Arenas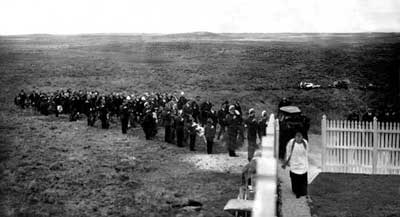 Thomas Saunders funeral cortège, Otway, 21 October 1928
A year has passed since the late Mr. Thomas Saunders was laid to rest in the little cemetery on the hill overlooking the settlement he helped to found 44 years ago and which with such indomitable energy and unfailing devotion he patiently built up during the succeeding years, until today Otway Station can very justly claim to be a model of its kind in Patagonia.
Don Tomás, as he was affectionately called, has passed out of our ken, but in this country he so ably helped to open up, the memory of his noble life of self-sacrifice will be his greatest memorial and perpetuate his name down through the ages.
On Sunday last, the 1st anniversary of the laying to rest of the late Mr. Saunders in Otway cemetery, the First Fire Brigade Company, of which the deceased was a founder, sent a delegation to Otway to lay a wreath on his grave. Before leaving for the farm, the delegation visited St. James's Church depositing a wreath in the chancel.
On arrival at the grave-side, the Captain of the First Company, Mr. Gustavo Dietert, pronounced a most impressive speech, after which the wreath was deposited on the tomb. Other wreaths were laid by Mr. John Hamilton, Mr. and Mrs. Leif Arentsen, Mr. and Mrs. Herbert Williams, Mrs. E. Watson, Mr. and Mrs. J. MacLean and Mr. and Mrs. R. Cordoba.
The following is a list of those present at the ceremony: Messrs. Armando Sanhueza, Gustavo Dietert, Manuel Zorrilla, W. W. Watson, Juan Marzolo, Atilio Tonnizo, Mr. and Mrs. Leif Arentsen, Mrs. E. Watson, Mrs. E. MacLean, Messrs. A. H. C. Borger, John Hamilton, A. Sutherland, Fell Coutts, E. Herzog, W. Thomson, W. G. Fookes, A. Kusanovic and J. Macfarlane.
Source: "The Magellan Times", Punta Arenas, 23-X-1929
Thanks: Carlos González; Michael Saunders (photos, III-2010)
Updated: 11-VI-2010