(1) In 1896, Alexander Maclennan was engaged as a foreman at Estancia Primera Argentina, the first large sheep ranch established by José Menéndez in the Argentine sector of Tierra del Fuego.

(1) En 1896, Alejandro Maclennan fue contratado como capataz en la Estancia Primera Argentina, el primer gran proyecto ganadero de José Menéndez en el sector argentino de Tierra del Fuego.
(2) At this early period, the flocks of sheep suffered repeated losses from the local native population (Ona / Sélknam), leading to retaliation on the part of the affected ranch owners and managers. Several men gained a reputation for their murderous ways, among them Alexander, better remembered by his nickname of "Red Pig". Rumours circulated that a substantial reward was paid for each native killed, a severed ear being presented as proof.

(2) En los primeros años de la ganadería fueguina, los piños de ovejas sufrían pérdidas causadas por los indígenas (Ona / Sélknam), provocando represalias de los dueños y sus administradores. Varios hombres llegaron a ser tristemente "famosos" por sus asesinatos, entre ellos Alejandro, reconocido por el apodo "Chancho Colorado". Circulaban rumores que se pagaba por la muerte de cada nativo, bajo presentación de una oreja cortada.
(3) It was supposed that all the ranching companies condoned this genocide in greater or lesser degree, although publicly they encouraged the Argentine and Chilean authorities to "transplant" the natives "out of harm's way" - for example, to Dawson Island, which was leased for this purpose to the Salesian order.

(3) Se presumía que todas las empresas ganaderas toleraban este genocidio en mayor o menor escala, aunque públicamente instaban a las autoridades argentinas y chilenas a "trasplantar" los indígenas a un lugar "menos conflictivo" - por ejemplo, a isla Dawson, que fuera cedida a los Salesianos para este propósito.
(4) Two small possessions of Alexander Maclennan (illustrated here) shed an interesting light on this period. One, a hat- or tie-pin, is decorated with an arrowhead which injured him in 1897: its material is of a glassy green colour - made from a bottle, perhaps? The other is a pocket watch, gifted by José Menéndez in 1907, probably on the occasion of Alexander's leaving his employment; it is gratefully dedicated "to his good assistant".

(4) Dos pequeños objetos pertenecientes a Alejandro Maclennan (ver fotos) nos hablan de la historia de aquellos años. El primero, probablemente diseñado como prendedor de un sombrero o una corbata, ostenta en su decoración la punta de una flecha, con la que fue herido su dueño en 1897. Está hecho de un material vidrioso verde - ¿tal vez fragmento de una botella? El otro es un reloj de bolsillo obsequiado por José Menéndez a Alejandro en 1907, probablemente en reconocimiento de su retiro de la empresa; lleva la encomiosa dedicatoria "a su buen colaborador".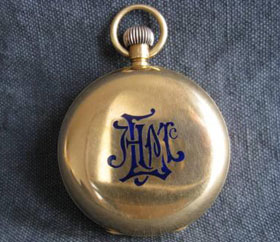 Monogram / Monograma
« "AMcL" (Alexander McLennan) »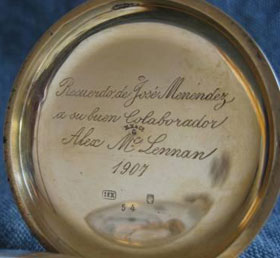 Inscripción / Inscription
« Recuerdo de José Menéndez a su buen Colaborador Alex McLennan 1907 »
« Remembrance of José Menéndez to his good assistant Alex McLennan 1907 »
---
---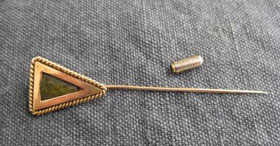 hat or tie pin
prendedor para sombrero o corbata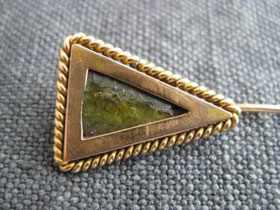 arrowhead worked into pin
punta de flecha incorporada en prendedor