The British Club, Punta Arenas (1899-1981)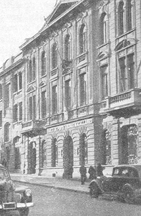 History of the Club
The British Association of Magallanes, or "British Club" as it was popularly known, was founded 3rd May 1899. The Club's premises were located in the upper floor of the former Bank of Tarapaca and London (now Bank of Chile), immediately adjacent to the Plaza, in Calle Roca [they are not open to the public]. Membership was restricted to British males, generally of the upper class. Its premises were furnished in the plush style of a gentleman's club, complete with bar, library and billiard tables. They were well patronised, both by local businessmen, and by ranch-owners and managers on their periodic visits into town.
As the British presence in Magallanes started to decline, the Club began to admit Chileans, provided they spoke English. Later, Spanish-only speakers of British descent were also admitted. By the early 1950s, the organization had lost its vitality, and membership continued to dwindle. In 1981, the Bank of Chile closed the premises, confiscating the contents in lieu of arrears of rent, and the Club ceased to exist.
First President: Henry Leonard Reynard
Name Lists
1910 Office-Bearers
| | |
| --- | --- |
| President | F M Townsend |
| Vice-President | A A Cameron |
| Directors | W Perkins, E W Hobbs, C A Milward, A R Lethaby, A N Gallie, H W Smith, J C Robins, W M Somerville, A Y Bishop |
| Country Representatives | T Saunders, G Harries, A Waldron, W Waldron |
1914 Annual Dinner [news report]
The Third Annual Dinner of The British Association of Magallanes was held at the Kosmos Hotel on Saturday evening [May 23rd].
Shortly after 8 p.m. the President of the Association, Mr. John Dickson, took the Chair, the position of honour being occupied by H. B. M's Consul Mr. C. A. Milward.
A well selected menu, served with the inimitable care always shown by our worthy host of the Kosmos, was rendered doubly palatable by the music from a really excellent orchestra.
After the customary toasts of "The King" and "The Country We Live In" had been proposed respectively by the President and the Vice-President, and several amusing after dinner speeches had been listened to, "God Save the King" and "Auld Lang Syne" were heartily sung. A really pleasant evening was concluded with an impromptu smoking concert at the Club.
The following gentlemen attended the Dinner:--
The President of the Association, Mr. John Dickson, H. B. M's Consul Mr C. A. Milward, The Vice-President Mr E. W. Hobbs, Messrs. W. Perkins, W. H. Smith, T. R. D. Burbury, Magellan Fenton, J. C. Robins, J. W. Douglas, C. G. Ferrier, A. N. Gallie, J. Knight, J. J. Leary, D. R. Lethaby, Leif Arentsen, A. Morrison, F. D. Paton, P. A. Pettersen, T. S. Boyd, P. A. Bradley, C. A. T. Riesco, A. W. Treanor, S. T. Dockray, A. C. Wands, H. Elbourne, H. A. Binfield, F. J. Oerton, H. Breen, A. M. McDonald and the Rev. J. C. Cater.

1920 Office Bearers
| | |
| --- | --- |
| President | R Irlam |
| Vice-President | A S Cameron |
| Hon. Secretary | A Stewart |
| Treasurer | J I Cruikshank |
| Directors | W H Smith, E W Hobbs, T S Boyd, C A Riesco, D R Lethaby, W P Jones, T Saunders, W L Wood, W R Rogers, K C Ross |
Sources:
(1) "Chile Austral", 22-II-1910
(2) "Los Británicos en Punta Arenas", Anibal Escobar V., Santiago 1922
(3) "The Magellan Times", 27-V-1914
Further reading: "Streams in the Wasteland", Elizabeth Dooley, Punta Arenas, 1993
Photo detail: "Treinta Años en Tierra del Fuego", Alberto de Agostini, Buenos Aires 1956
Henry Reynard portrait: courtesy of Robert Lemaire (IX-2013)
Last updated: 30-IX-2013