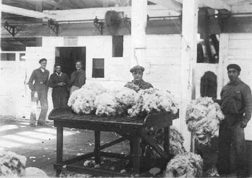 Estancia Gente Grande, Tierra del Fuego,
sorting wool, 1943
To sum it up in a single word, what changed everything was "sheep". Sheep-raising reached its "eastern limit" in Patagonia after 1833, when the British took possession of the nearby Falkland Islands (Malvinas). Sheep ranching was profitable in the islands, but offered few economic opportunities for the individual farmer.
From the late 1870's onward, some settlers from the Falklands moved on to Santa Cruz and Magallanes, attracted by state grants and privileges. There they acquired, and worked on, large expanses of land called "stations" (estancias). Soon, an export industry was created for wool and meat, following the pattern already developed in New Zealand. The scale of operations rose to industrial levels: a single large frigorífico (freezing works), could process as many as 250,000 animals in a season.
Britain's role in this rapid development was many-fold: investment capital, industrial and husbandry expertise, and a large export market. By the early 1900's, there were several thousand Brits living in the region, drawn by the opportunities of this new source of wealth.