"My Life in Patagonia" [Quotation]
by Mrs. Jennie Saunders
Jennie Saunders lived at Estancia Cerro Castillo from 1949 to 1965. Her husband George's article on ranch management appears here. Their farm was located about 300km north of Punta Arenas. In comparison with the majority of ranches in the region, the living conditions she describes were very good, thanks to a favourable micro-climate, high wind-breaks (to protect the house and gardens) and the logistical support provided by a large corporation.
I had so much to learn when I arrived in Chile, to live on a Sheep Farm in Patagonia. It was very different from life in Darlington, Co. Durham ... I arrived in Punta Arenas on 3 May 1946, sailing south from Valparaiso ...
My husband, George, had worked for forty years with the sheep farming company Ganadera de Tierra del Fuego
[SETF], on large sheep farms with anything from 90,000 to 160,000 Corriedale sheep and Shorthorn cattle. He had managed 'estancias' bigger than the biggest counties in the British Isles, and his pioneering work in land reseeding attracted people from all over the world. The fact that we were not blessed with children left me free to help him in some aspects of his work - for example, I did all the typing of his information reports to the Directors of the Company, and all the planning of the year-round work on the farm.
We lived at Estancia Cerro Castillo from 1949 to 1965. This was the Company's show farm ... and we had to look after and entertain visitors who were sent by the Company ... The majority of them came from the Food and Agriculture Organization (FAO) ... The Manager's house had four double bedroom for visitors, and we often had a "full house". Naturally, I had a large staff to help me run the house efficiently. Feeding the visitors was a full time job, as they came throughout the summer months, and some even came during the winter.
I am not a very good housekeeper, but I had learned a great deal from my mother, who was very efficient at the preparation of food, such as preserving fresh soft fruits in season, and making brawn from fresh meats. We had an excellent garden ... with raspberries, strawberries, plums, gooseberries, black and red currants, rhubarb, apples etc. I made jams and jellies and bottled much of it for use in the winter. I also made a mustard pickle from fresh vegetables that was very popular with cold meat and salad.
Another preservation technique I learned was the curing of pork. We would kill four pigs for use throughout the year. As we had no freezers, this would be done in mid-winter when it was cold enough to keep the meat fresh. The assistant butcher on the farm used to cut the animal into portions suitable for salting, and I would put these in brine stored in large beer barrels. After soaking for a time suitable to the size of the portion, it would be smoked in our smokehouse. Of course, we did keep certain fresh cuts for roast pork. I would also preserve beef in brine, prepare beef brawn, and smoke legs of mutton, this last being passable as ham! All very delicious in sandwiches ...
We kept hens for fresh eggs, and we raised all our own fowl, such as chickens, ducks, geese and turkeys, for the pot! Once a month I made up an order for groceries to get from the stores on the farm. These stores were supplied in bulk from the Company's warehouse in Punta Arenas. The annual wine and spirits order was made out by George, and was sent directly from the warehouse to our house as, of course, no drink of any kind was available on the farm for purchase.
As there was so much entertaining to do, I used to make out a weekly menu for the cook so that she was not left without ideas for meals. On many an occasion, visitors arrived without previous notice; only with their letter of introduction. It was nothing unusual for 8 to 10 people to arrive at lunch-time. So, a little more water would be added to the soup, and there was never any shortage of fresh meat and eggs.
On such a large farm, there were many times when the visitors would be away all day. For these occasions I would prepare picnics which, at times, could be for 20 to 30 people. Picnic lunches would consist of cold meats, mustard pickle salads, bread, butter, large jam tarts and fruit cake, together with coffee and tea in thermos flasks - not forgetting the delicious Chilean wines to wash all this down with. With no modern luxuries such as aluminium foil or 'cling' film, I would slice the cold meats and put a sheet of greaseproof paper between slices. Also, in those days there was no such thing as plastic food containers, cups, plates and cutlery. However, I always had boxes ready packed with enamel cups, plates and cutlery, and once everything was ready the boxes would be loaded into the truck for transporting to the picnic site.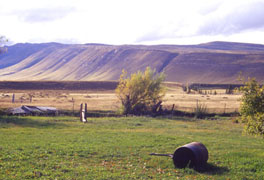 I had to ensure that the house was well stocked with linen and kitchen equipment, and all the curtains, loose covers etc. were replaced when worn. Whenever I visited Punta Arenas, I always had a list of purchases to ensure the smooth running of the house. Once the list was checked by the Company's office, I would go shopping. It was great fun to spend other people's money!
The house had a sheltered spot in the garden where, in the summer, we had 'Asados'. The assistant cook would tend the meat, and I would see to all the rest of the food and wine.
The house had a good vegetable and flower garden. I enjoyed an excellent rapport with the gardeners, and I arranged that the Company ordered all the seeds they needed. Any special ones the Company could not supply, I would obtain from friends in England. There was also a greenhouse, where, as well as melons and tomatoes, there was a vine producing good grapes. I used to get yellow tomato seeds, and the gardener was so proud that his greenhouse was the only one on the Company's farms producing yellow tomatoes! ...
I have never been back to my home at Cerro Castillo ... I just wanted to remember everything as it was when George was alive. We had seen the end of an era; we had been part of the golden years of Patagonia.
Source: newsletter of the Anglo-Chilean Society, c1998, pp. 2-3
Illustrations: Manager´s house, Cerro Castillo (2003) (photos by the author)
Updated: 23-III-2004